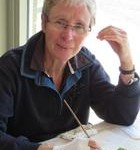 I am inspired by the beauty and uniqueness of the natural environment and the plants and animals found within it.
I think of myself as an observer and recorder, analysing and  interpreting what I see in drawings, watercolours and etchings, with a special interest in the endemic species of Tasmania. The result is both a work of art  and a record which gives the information needed  to identify the specimen.
My watercolours and drawings are mostly traditional botanical or scientific works, done in great detail, many  needing extensive microscopy. Each work may  take  weeks or longer to complete, especially if the life cycle of the subject is included. I love the detailed  work this art-form needs.  (www.annick.id.au).